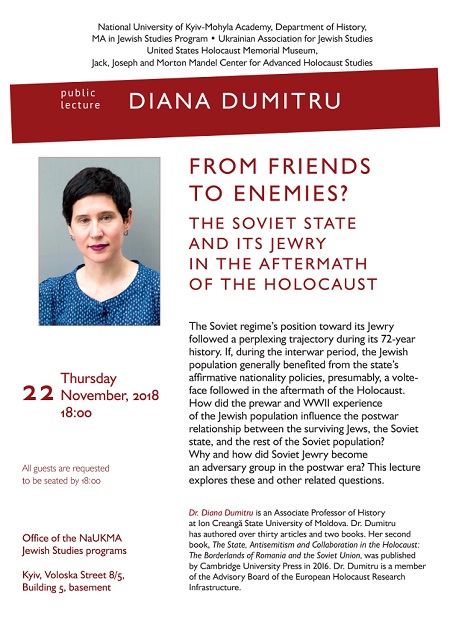 Ukrainian Association for Jewish Studies, NaUKMA Department of History and MA in Jewish Studies Program, Jack, Joseph and Morton Mandel Center for Advanced Holocaust Studies at the United States Holocaust Memorial Museum invite to a public lecture by Diana Dumitru "From Friends to Enemies? The Soviet State and Its Jewry in the Aftermath of the Holocaust".
The Soviet regime's position toward its Jewry followed a perplexing trajectory during its 72-year history. If, during the interwar period, the Jewish population generally benefited from the state's affirmative nationality policies, presumably, a volte-face followed in the aftermath of the Holocaust. How did the prewar and WWII experience of the Jewish population influence the postwar relationship between the surviving Jews, the Soviet state, and the rest of the Soviet population? Why and how did Soviet Jewry become an adversary group in the postwar era? This lecture explores these and other related questions. 
Dr. Diana Dumitru is an Associate Professor of History at Ion Creangă State University of Moldova. Dr. Dumitru has authored over thirty articles and two books. Her second book, The State, Antisemitism and Collaboration in the Holocaust: The Borderlands of Romania and the Soviet Union, was published by Cambridge University Press in 2016. Dr. Dumitru is a member of the Advisory Board of the European Holocaust Research Infrastructure.
The public lecture will take place on
Thursday
November 22, 2018
18:00
All guests are requested to be seated by 18:00.
Venue: Office of the NaUKMA Jewish Studies programs (Kyiv, Voloska Street 8/5, building 5, basement).