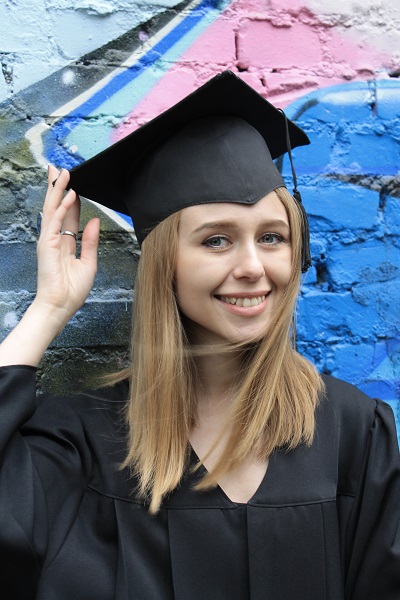 MA Program in Jewish Studies' graduate Anna Umanska shares her memories:
Being a student of the Master Program in Jewish Studies at the Kyiv Mohyla Academy has left very good impressions.
During these two years of studying I had a unique opportunity to learn several Jewish languages. Our instructor of Hebrew Olga Yakovleva had sparked our interest in this difficult language and made the learning process feel simple and easy. The Yiddish instructor Tetyana Batanova encourged us to read literary works of classical Yiddish authors. At every lecture she told us about peculiarities of Yiddish culture, music, and folklore.
After the first year of study we experienced a two-weeks museum, archival, and library practicum in Kyiv and Lviv, and an epigraphic expedition. Taissa Sydorchuk who led the practicum provided us with an access to unique archival materials, which are usually not easy to obtain. We have attended a number of institutions in Kyiv and Lviv where a lot of unique documents and collections of Judaica are preserved. During the expedition, our group had an opportunity to work at the Jewish cemetery in Berezhany. Before that field trip we had an introduction course on Jewish epigraphy which became one of the most interesting for me.
My interest in Jewish Studies started before I entered the Master Program in Jewish Studies at the NaUKMA. As part of my bachelor degree curriculum, I attended the course on history of the State of Israel by Vitaly Chernoivanenko. This experience encouraged me to apply to the Master Program in Jewish Studies. During two MA years, Professor Chernoivanenko has given a number of core courses on the main topics in in the sphere of academic Jewish Studies. Every course that we have attended and all the experience we have had during our practicum, provided us not only with essential knowledge but also with good memories.
Everyone planning to attend the Master Program in Jewish Studies at the NaUKMA should have in mind a significant number of guest courses presented by specialists from leading universities around the world. It is a great chance to broaden the horizon of your research interests, although it requires additional time and resources. One also has to be prepared for the epigraphic expedition, which gives indisputable practical advantages to young researchers yet expects a certain level of commitment.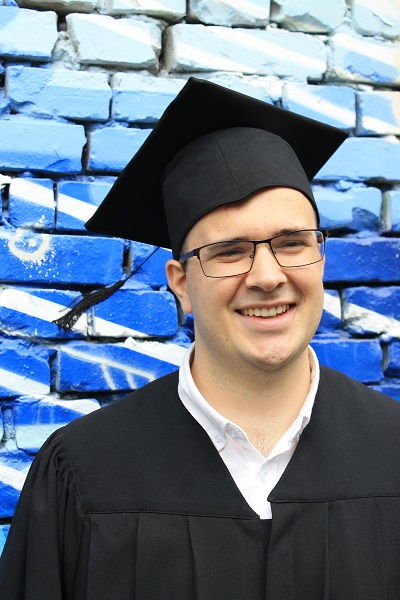 MA Program in Jewish Studies' graduate Anton Chysnikov shares his memories:
Most of the students in my group entered the program having no prior education in history. In this regard, I want to emphasize the successful combination of general historical disciplines with courses on Jewish Studies. I would like to specifically mention such courses as Jewish-Christian Relations by Prof. Vitaly Chernoivanenko and History of the Holocaust and Antisemitism by Prof. Serhiy Hirik.
A very valuable advantage of the Master Program in Jewish Studies at the Kyiv-Mohyla Academy is that its organizers invite a great number of guest lecturers from top universities in Israel, the USA, and Canada. Especially interesting for me was Prof. Ze'ev Khanin's mini course on the Israeli society. Attending academic events, supported by the Ukrainian Association for Jewish Studies and its partners, has allowed me to be up to date with the latest trends in the field of Jewish Studies in the world.
Another clearly positive aspect is the archival, museum, and library practicum after the first year of study. Thanks to its curator, Prof. Taissa Sydorchuk, we got acquainted with the Judaica collections in Kyiv and Lviv, as well as tried ourselves as researchers of Jewish material culture. Unlike many Ukrainian universities where practicums are rather a simple formality, this one really encourages the training of future specialists.
This program contributes a lot to the preparation of a master thesis. The schedule of classes for the second academic year allowed me to have enough time for working in libraries and archives.
The most memorable thing for me, personally, was a summer internship at the Hebrew University in Jerusalem. During this period, I was working on my research and studying on an important archival collection of the Soviet press. Particularly productive was the cooperation with my tutor Dr. Arkadi Zeltser.
All the above mentioned would be impossible without the sponsors of the program. Many thanks to all those whose assistance enabled my study at the most prestigious university in Ukraine.