2022-03-25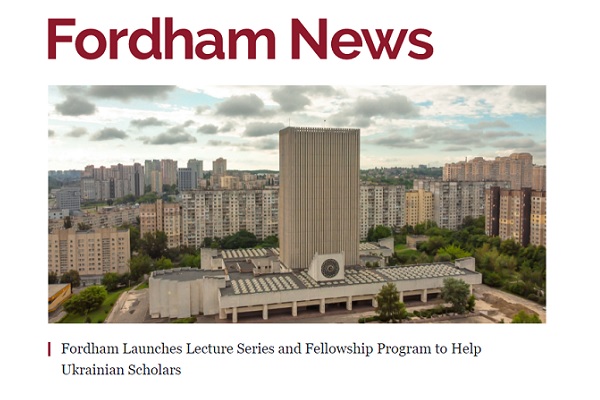 The first lecture from the Scholars at War lecture series at Fordham University was held on March 18. It was given by the UAJS' president Vitaly Chernoivanenko and the director of the Center of Urban History in Lviv Sofia Dyak.
Its topic was "Scholars at War: People, Science, Heritage."
The video and short information on the lecture can be found here.
The second lecture by Yuri Radchenko and Artem Kharchenko (Center for Interethnic Relations Research in Eastern Europe, Kharkiv) and Iryna Matsevko (Kharkiv School of Architecture) was held on March 24.
The next event will take place on April 1 at 09:00 AM (US Eastern Time)/3PM (Germany)/4PM (Ukraine). The topic is "Looking for New Frameworks: On the (In)visibility of Ukraine in Culture and Academia." This panel will feature Daria Badior, culture editor, critic, and journalist, Sofia Dyak, historian, director of the Lviv Center for Urban History in Lviv, and Iryna Klymenko, a historian at the Ludwig Maximilian University in Munich. 
You can find the registration form here.