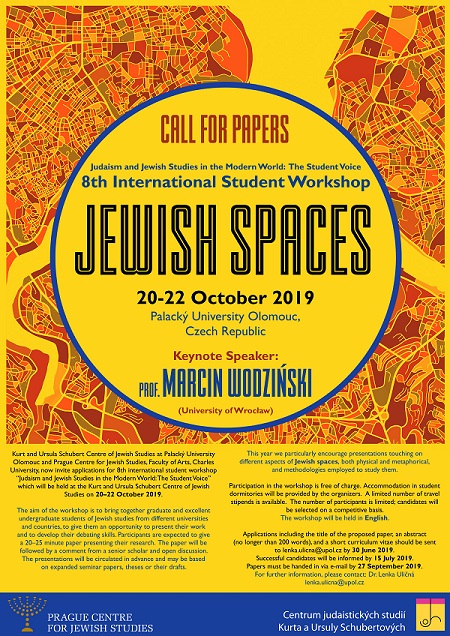 ​Kurt and Ursula Schubert Centre of Jewish Studies at Palacký University Olomouc and Prague Centre for Jewish Studies, Faculty of Arts, Charles University, invite applications for ​the ​8th International student workshop "Judaism and Jewish Studies in the Modern World: The Student Voice. Jewish Spaces" which will take place in Olomouc on October 20-22, 2019.
The keynote speaker will be Prof. Marcin Wodziński (University of Wrocław).
The organizers accept applications from graduate and excellent undergraduate students of Jewish Studies.
Participation in the workshop is free of charge. Accommodation in student dormitories will be provided by the organizers. A limited number of travel grants is available. Candidates will be selected on a competitive basis.
The deadline for the application is postponed until July 28, 2019.
Full information about the workshop is available at the workshop's poster (please find the full resolution image here).