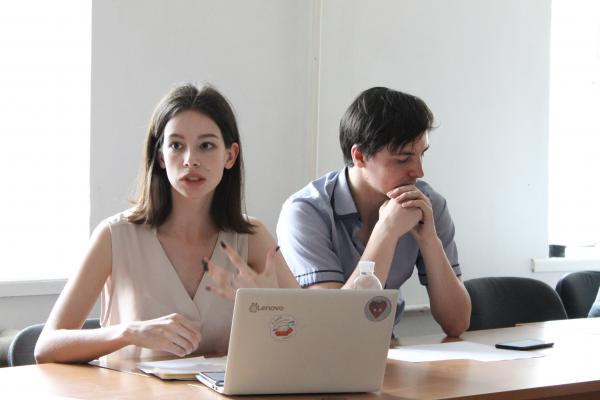 On June 5, 2018, five students of the NaUKMA Master Program in Jewish Studies successfully defended their master theses and obtained an academic degree of Master of Arts in History and Jewish Studies.
Oleksandra Abramova
"Zionism in Chernivtsi: From the Sentiment to the Political Movement, 1891–1918"
Anastasiia But
"The Response to the Anti-Jewish Pogroms of 1881 in Kiev and Kiev Gubernia"
Andrii Levchenko
"Klezmer Musicians of Kiev Gubernia in the Late 19th and Early 20th Century: Historical and Cultural Reconstruction"
Daryna Podhornova
"The Employment of Jewish Women in Orthodontic and Obstetrical Sphere in Late Imperial Kiev"
Roman Saviak
"The Image of the Jew and the State of Israel in the 'Pravda' Newspaper, 1985 –1989"
We sincerely congratulate new specialists in Jewish Studies and wish them success in their future endeavours.
The photographs from the theses' defense can be found in the album on the NaUKMA Master Program in Jewish Studies' Facebook page.
The NaUKMA MA in Jewish Studies Program is the first degree in Jewish Studies program in Ukraine. It has been launched by the National University of Kyiv-Mohyla Academy together with the Association of Jewish Organizations and Communities of Ukraine in 2012 in order to develop academic Jewish Studies in Ukraine. The program aims to train highly skilled professionals in the fields of Jewish history and culture.
The curriculum of the two-year program consists of general methodological seminars in history, as well as special courses in Jewish Studies and Jewish languages (mandatory courses in Hebrew and Yiddish with Aramaic as an optional course). The program invites visiting professors from Ukrainian universities and abroad. Leading scholars and experts in Jewish Studies from Israel, the USA, the UK, Canada, the EU are invited as visiting professors to give mini courses and public lectures in order to provide the students with the most up-to-date research methodology and approaches in academic Jewish Studies. Graduates of the program receive a bilingual Ukrainian-English diploma (Master in History and Jewish Studies).
In addition to general courses, students participate in the summer practicum at archives, museums, and libraries where they directly study Jewish cultural heritage of Ukraine and get practical skills of research work with unique documents, books, and artifacts.
Each summer a select group of students (chosen on a competitive basis) visits Israel for an internship at the Hebrew University of Jerusalem to work on their research topics in libraries and archives, as well as to communicate and discuss their topics with Israeli scholars.
Photo: Alex Berk